The following members of the Institute are actively involved in its programs and research activities.
Jacques Hallak
Advisor for International Councils, International Advisor, Paris, France
Hervé Maisonneuve
Advisor for publishing, Consultant on scientific writing, former Associate Professor of Public Health, Paris, France
Martine Peters
Advisor for Bachelor & Master programs , UQO, Canada
Advisor for Doctoral Programs, professor, University of Bucharest, Romania.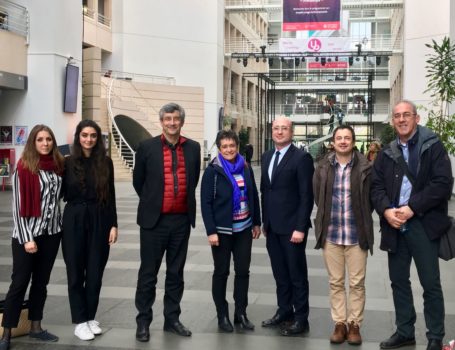 Philippe-Edwin  Belanger
Director of INRS – CANADA
Paulo Peixoto
Advisor for Portugal, professor, Centre for Social Studies (CES/FEUC), University of Coimbra, PORTUGAL
Marian Popescu
Director of CARFIA, ROMANIA.
Country correspondents
Mériem Jaïdane, professor, National Engineering School of Tunis (ENIT), Tunisia – Sonia Morin, Coordinator of Education services, University of Sherbrooke, Canada, Dagoberto Páramo Morales, Professor, Universidad del Norte, Barranquilla, Colombia
Rim Bitar
Responsible for the Events administration
Responsible for assessments
Dejan Munjin
Responsible for the development of IT tools, Doctor of Economic and Social Sciences with a specialization in Information Systems, University of Geneva, Switzerland
Yelena Saltini
doctorante GSEM, Université de Genève, Suisse
• Les représentants de l'IRAFPA
Philippe-Edwin Belanger

Directeur INRS, CANADA

Paulo Peixoto

Professor Centro de Estudos Sociais (CES/FEUC) Universidade de Coimbra, PORTUGAL

Marian Popescu

Directeur du CARFIA, ROUMANIE
• Nos correspondants internationaux
Boubacar Baidari, Afrique de l'Ouest – Meriem Jaïdane, Tunisie – Sonia Morin, Canada –  Dagoberto Paramo Morales, Colombie.